Now more than ever, organizations are increasing their use of technology and looking to leverage it in more meaningful ways. Left and right we see organizations finding creative ways to use technology to enable a more agile workforce, reduce costs and better support both client and employee needs. The decision to leverage technology as a service creates significant impact on an organization at both the strategic and individual level.
The Role of Change Management with New Technology
The intersection between change management and the transforming landscape of technology is becoming larger and larger. The capabilities and gains that technologies can offer an organization can no longer be ignored. In the same way, the need for change management when implementing new technology or technology strategies can no longer be ignored. Tim Creasey, Prosci's Chief Innovation Officer, defines change management as, "Preparing, equipping and supporting individuals through the change journeys they experience." If individuals are not prepared, equipped and supported through their journeys, an organization will not achieve its intended return from the technology or strategy implementation.
Understanding and watching the intersection of technology and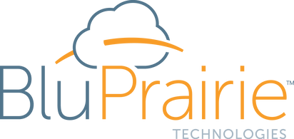 change management evolve, Prosci was thrilled to align with BluPrairie, a cloud strategy and design company focused on helping organizations leverage new technology in meaningful ways. Their focus on tying organizational change management with organizational cloud strategy speaks to the intersection's progression and maturity.
How to Put People First in a Technology Implementation
Michelle Bates, former director of IT Architecture Services for Rockwell Collins, launched BluPrairie to help organizations leverage new technology to do business differently. As an independent cloud strategy and design partner, they support businesses, governmental agencies, start-ups and higher education institutions of all shapes and sizes. Her plan is to apply her knowledge and extensive experience in the technology space to help small to mid-size businesses and organizations in Iowa and the Midwest navigate the fast-changing world of technology.
"I was raised in Kalona, Iowa, and after earning my accounting degree I spent 20 years in Fortune 500 companies and start-ups in the technology arena," she said. "I like to tell people that if a girl from the land of the Amish can understand technology, then anyone can understand technology. And that's the approach I am taking with my new company. I want to make the cloud accessible and understandable at all levels of an organization, from those familiar with technology to those who are new to it."
Michelle continued on, saying, "We want to distinguish ourselves by applying a people-first model to drive business results," Bates said:
You can't drive technology change unless you bring your people along on the journey. Our goal is to help businesses do that through a combination of organizational change management and technology expertise."
How Prosci and BluePrairie Are Working Together
Prosci is teaming up with BluPrairie to power their change management efforts. BluPrairie will use Prosci as their change management approach in supporting their client's technology transformations, helping ensure each individual is supported along the way and the organization realizes its intended results.
For more information visit www.bluprarietech.com.